Zandvoort is one of the busiest places in the Netherlands during the summer. This city near Amsterdam is famous for his beautiful beaches. A lot of foreigners from all over the world come to Zandvoort in the summer.
Foreign newspapers in Amsterdam
Are you visiting Amsterdam from abroad and looking for some newspapers from your own country? Bruna Zandvoort is the place to be! Zandvoort is located near Amsterdam and we have a wide collection of foreign newspapers. So come from Amsterdam to Zandvoort and buy the latest foreign newspapers in our store. Below we provide you with a list of foreign newspapers per country. All these newspapers are printed in the Netherlands so you will always find the most up-to-date version in our store. Buy your newspapers of the day at Bruna Zandvoort.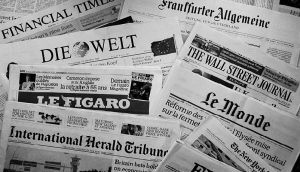 English newspapers
We have the most important English newspapers.
Sun
The Telegraph
Daily Telegraph
Daily Mail
German newspapers
Bruna Zandvoort is well known for the biggest collection German newspapers in Amsterdam and the wide area. Many German couple come to our beaches in the summer, so we think it's important to offer them a wide choice of German newspapers. All German newspapers are completely up-to-date. You will find these German newspapers of the day in our store:
Bildzeitung
Kölner express
Kölner stadt
Frankfurter Algemeine
Frankfurter Rundschau
Die Welt
Rheinische Post
Westd.Alg.Zeitung
Westf.Nachrichten
Sudd. Zeitung
Kolner rundschau
Neue Rurh Zeitung
Italian newspapers
Besides the biggest collection German and English newspapers, we also have some Italian newspapers in our store. You can buy these Italian newspapers at Bruna Zandvoort:
Gazette dello sport

la Repubblica

Corri del sera
Belgium newspapers
Last but not least is our collection with Belgium newspapers. These are the Belgium newspapers we sell in our store:
Laatste Nieuws
Gazet van Antwerpen
Nieuwsblad
Come to our store and buy the latest newspapers from your home country.